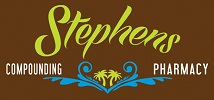 Stephens Compounding Pharmacy
55 Mathews Drive, Suite 215, Hilton Head
843-686-3040
Many people have unique health care needs that off-the-shelf prescription medications cannot meet. For them, personalized medication solutions-mixed safely by trained, licensed pharmacists are the only option to achieve the desired health care outcome. Stephens Compounding Pharmacy is here on Hilton Head Island to meet that need.